A casual and one of a kind bistro
Set in the heart of Villeray, Mesón is a casual, one of a kind bistro offering a variety of comforting and original Spanish inspired dishes. At Mesón, one can expect to be enthusiastically received by the restaurant's young and dynamic team.
At the head of the team are the restaurant's four owners: Victor Afonso, Sébastien Muniz, Marie-Fleur St-Pierre and Pedro Oliveira. The group shares a true love for the flavourful cooking the Iberian peninsula is known for.
The culinary experience at Mesón is enhanced by a courteous service and an appealing decor. The menu's specialties, as combined with a pleasant atmosphere, are sure to satisfy your longing for delectable food enjoyed in the good company of friends.
About
Mesón's brunch is served Saturdays and Sundays. Perfect for breakfast or lunch, the dishes are as deliciously diverse as those you would find on the dinner menu. Whether you're into sweet or savoury, the top quality, fresh ingredients used to create the generous dishes are sure to satisfy your appetite. Mesón's brunch will introduce you to the warm, comforting and authentic aromas of Spanish style cuisine.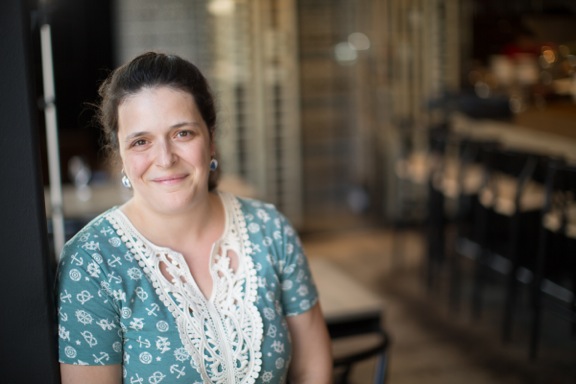 Marie-Fleur St-Pierre
Marie-Fleur is currently enjoying a well-earned reputation as a result not only of her success as chef at Tapeo, but also of her recipe book, "Les tapas de Marie-Fleur" and of her television show, "Marie-Fleur et ses tapas". Now head chef at Mesón, Marie-Fleur shares her passion and knowledge through her creation of delicious and comforting dishes.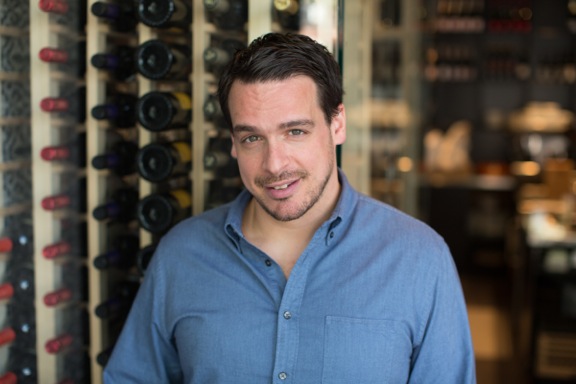 Victor Afonso
Ten years ago, Victor founded the tapas bar known as Tapeo with his childhood friend Sébastien Muniz. The foodie has once again united his Portuguese heritage and his deep passion for food with the opening of Mesón. Here he has brought to life his vision of the restaurant industry, to which he is truly committed and excited to share with others as passionate as he. Highly experienced as a restaurant owner, Victor grants a special importance to attentiveness towards the customer while offering a top quality product.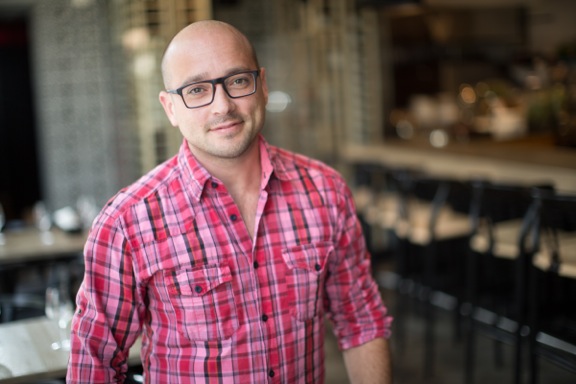 Sébastien Muniz
For Sébastien, the opening of Mesón represents a second chapter to the journey he embarked on when he gave rise to Tapeo. Of Spanish descent, this restaurant owner, who has more than 15 years of experience, places a special emphasis on Mesón having a warm and welcoming feel while proving excellent service. Sébastien's hope and vision are to offer his customers flavourful food in a friendly setting.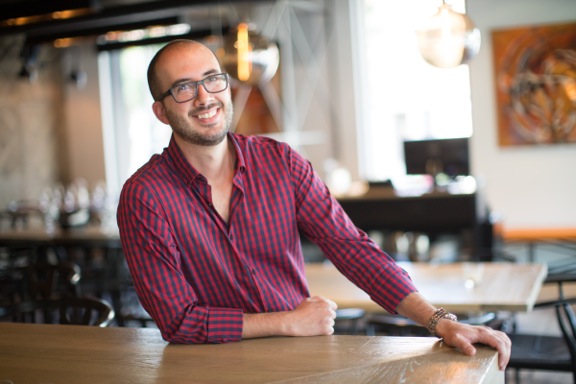 Pedro Oliveira
Pedro, whose roots also stem from Portugal, worked at Tapeo for several years. Today, he is one of the four associates at Mesón. Pedro contributes to the energy of the team by applying the professionalism he has gained from his lengthy experience in the Montreal restaurant scene. Jovial and thoughtful, the young man brings something special to the group through both the warmth of his greeting and his extensive knowledge of wines and of Spanish food staples.
Virtual Tour
Click here to start the virtual tour
Address
345 Villeray street,
Montreal, Québec
H2R 1G8
514-439-9089
Business Hours
Monday
Closed
Tuesday
17:30
22:00
Wednesday
17:30
22:00
Thursday
17:30
23:00
Friday
17:30
23:00
Saturday (brunch)
10:00
14:00
Saturday
17:00
23:00
Sunday (brunch)
10:00
14:00
Directions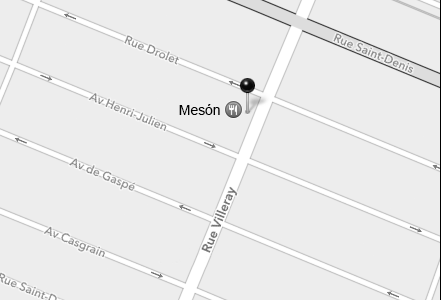 Service de valet jeudi, vendredi et samedi soir offert par Valet Québec.